Are you planning on buying a pair of Skechers boots but you're unsure whether or not they run true to size? You're not alone! Many people are in the same boat, wanting to make sure that they get the right size when they order the boots. In this article, we'll be discussing what you need to know about Skechers boots and whether or not they run true to size. We'll also be looking at some tips to help you make the right choice when it comes to buying Skechers boots. So, if you're looking for information on Skechers boots and their sizing, read on to find out more!
Skechers boots are generally true to size, but you should check the size chart and product reviews of each style to be sure. Wearing the right size boots can help ensure a comfortable fit and prevent blisters. To find your size, measure your foot length from heel to toe and check the size chart for the corresponding size. Additionally, reading product reviews can provide useful information about the fit of a particular style.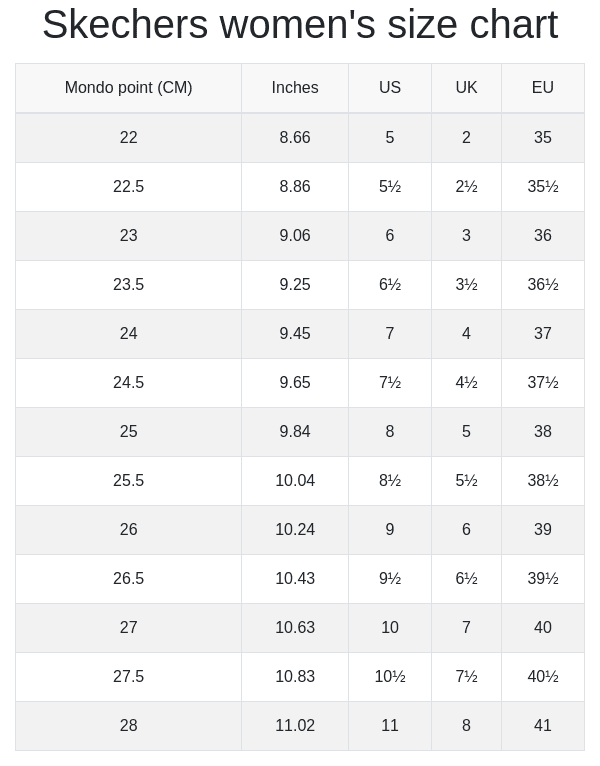 Are Skechers Boots Accurate in Size?
Skechers boots are a popular choice for those seeking comfort, fashion, and durability. But how do you know if they are true to size? This guide will help you decide if Skechers boots are the right fit for you. We'll look at how Skechers sizes their shoes, how to measure your feet for a more accurate fit, and what to do if the boots don't fit.
How Skechers Sizes Their Shoes
Skechers sizes their shoes according to standard US sizing conventions. This means that their shoes generally run slightly larger than other brands, with a slightly wider toe box. This is great if you are looking for a comfortable fit, but if you are looking for a more snug fit, you may want to consider ordering a size down. It's important to keep in mind that Skechers shoes also come in a variety of widths, so you may need to order a wider size if you have wider feet.
How to Measure Your Feet
It can be difficult to know your exact size when ordering shoes online. To make sure you get the best fit, it's a good idea to measure your feet before ordering. The best way to do this is to trace the outline of your foot on a piece of paper, then measure the length and width of the tracing. This will give you a more accurate size than just using a standard US sizing chart.
What to Do If the Boots Don't Fit
If the Skechers boots you ordered don't fit, don't worry. Most retailers have easy return policies and will allow you to exchange them for a different size. Additionally, many retailers offer free shipping and free returns, so it's easy to exchange a pair of boots if they don't fit.
The Bottom Line
Skechers boots are generally true to size, but their sizes may vary slightly depending on the style and width of the shoe. To ensure the best fit, it's a good idea to measure your feet before ordering and be aware of the retailer's return policy. With the right size and a comfortable fit, you can enjoy the comfort and style that Skechers boots have to offer.
Related Faq
Are Skechers Boots True to Size?
Answer: Generally speaking, Skechers Boots run true to size and customers should order their normal shoe size. However, it is important to note that some styles may fit differently than others, so it is best to refer to the product page for the specific style to determine the best fit. For instance, some styles may fit narrow or wide and some may fit a half size larger or smaller than the normal size. Additionally, the material of the boot may also affect the fit, as some Skechers Boots are made of materials that may stretch or shrink over time.
Are Skechers Boots Waterproof?
Answer: The majority of Skechers Boots are not waterproof, though there are some styles that are water-resistant. Customers should refer to the product page of the specific boot they are interested in to determine if it is water-resistant or waterproof. For instance, some boots feature a waterproof leather upper and a water-resistant membrane to help keep feet dry during light rain or snow. On the other hand, some boots are made of materials that are not waterproof and may not provide any protection when exposed to water.
What is the Best Way to Clean Skechers Boots?
Answer: The best way to clean Skechers Boots depends on the material they are made of, as different materials require different cleaning methods. Generally speaking, it is best to use a soft cloth or brush to gently remove dirt and debris from the surface of the boots, and then re-apply a leather or suede protector to help keep them looking new. For boots made of canvas or synthetic materials, a damp cloth and a mild soap solution can usually be used to remove dirt and stains. Additionally, it is important to avoid using any harsh chemicals, as they can damage the material and cause discoloration.
Do Skechers Boots Have Good Support?
Answer: Yes, Skechers Boots generally provide good support for the feet. Many styles feature a supportive footbed with cushioning to help absorb shock and reduce fatigue, as well as arch support to help reduce pain and discomfort in the feet. Additionally, some boots feature a reinforced heel counter to help promote stability and a reinforced toe area to help protect the feet from impacts.
What is the Difference Between Skechers Boots and Shoes?
Answer: The main difference between Skechers Boots and Skechers Shoes is the height of the upper. Boots typically have a higher upper than shoes, which provides more coverage and protection for the feet, ankles, and lower legs. Additionally, boots usually have thicker soles and more supportive footbeds than shoes, which provides more cushioning and shock absorption.
How Durable are Skechers Boots?
Answer: Skechers Boots are generally very durable and can last for many years with proper care. The durability of the boots depends on the materials they are made of, as well as how often they are worn and how they are taken care of. For instance, boots made of leather tend to be more durable than boots made of synthetic materials, and boots that are properly cleaned and conditioned will last longer than those that are not. Additionally, boots that are worn frequently may need to be replaced sooner than those that are rarely worn.
Are Skechers shoes true to size?
In conclusion, it is clear that Skechers boots are true to size. They are designed to fit comfortably and provide the right amount of support and cushioning required for a quality pair of footwear. With their wide range of sizes and styles, Skechers offers a variety of options to meet the needs of all different types of feet. With the right size, you can enjoy a comfortable and stylish pair of Skechers boots.